Apps > Learn Chinese Free
Learn Chinese Free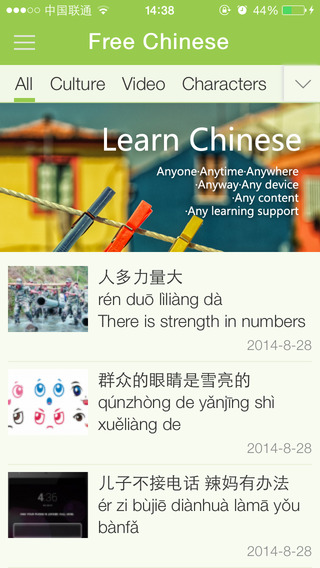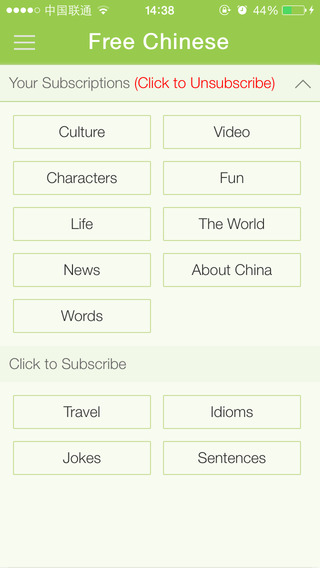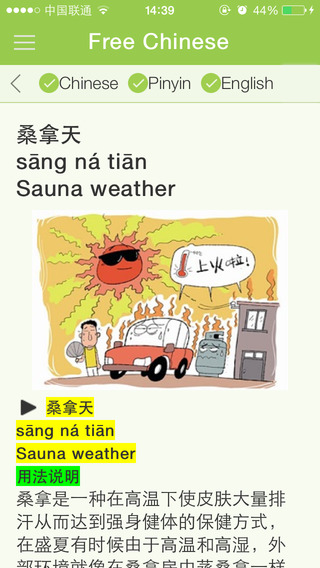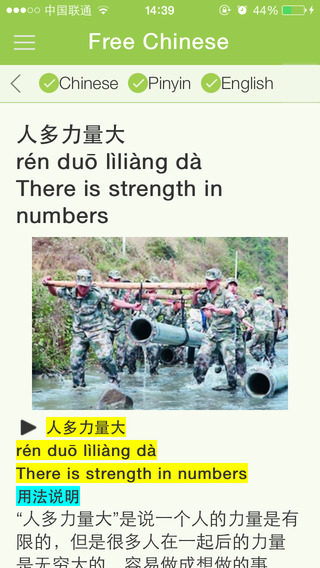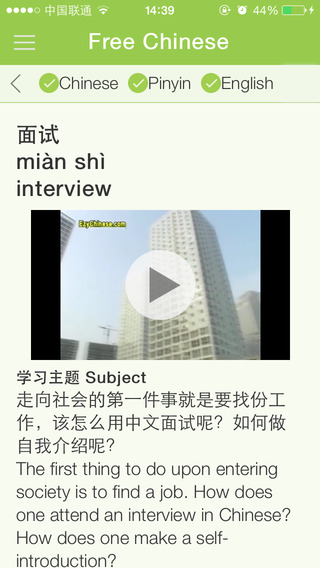 Introduction:
It introduces you to the most commonly used Chinese characters;
It provides you the most popular Chinese words;
It shares with you the most authentic Chinese traditional poems and cultural views;
It hits on the hottest topics in modern Chinese society;
It is "Learn Chinese Free",
To learn Chinese, it is easier than you think!
Watching, Listening, Reading, and Sharing! Enjoy learning!
Learn Chinese Free includes 13 sections including Chinese language learning, Chinese cultural exploring , and Chinese contemporary society experiencing , all of which can be used by learners to study by themselves, as well used as complementary materials for Chinese teaching.
The sections are as follows:
Characters, Words, Sentences, News, Jokes, etc. You will be introduced to basic Chinese characters, words, and sentences via pictures and audio files. This format serves as a great helper for practicing Chinese pronunciation, listening, and building your own Chinese language foundation;
Idioms. This section introduces stories containing philosophic views on life and reflections on traditional Chinese ideas which can help learners to gain a better grasp of the content found in Chinese conversations, in addition to the style of how Chinese people speak;
Video. This section helps learners study Chinese more directly and in real life situations through videos, which also creates a fun and interactive learning experience.
Fun, Life, Culture, Travel, etc. These sections present hot topics in contemporary China and allow learners to deepen their knowledge about the real China.
About China, The world. In this section learners learn about different cultural views and points of contention through the reading texts provided.
Learn Chinese Free now has about 3,000 articles and is updated on daily basis. The content can be switched freely for viewing in either Chinese or English. It provides Pinyin and audio files for the various features of each section. Through the navigation toolbars users can subscribe to sections based on their own needs and the study time they have available.

《免费学汉语》共包含13个栏目,囊括了中国语言学习、中国文化赏析及中国当代社会多方面内容,可供学习者自学,也可作为汉语教师课堂教学的补充材料。
《免费学汉语》内容包括如下版块:
一日一字、一日一词、一日一句、新闻听力、趣味汉语等栏目,从最基础的汉语字、词、句讲起,图文并茂,并配有音频范读,是练习汉语发音、听力、储存汉语语料的好帮手;
成语欣赏栏目,讲解富含人生哲理、体现中国传统思想的成语故事,帮助学习者的汉语会话更有中国范儿;
视频课堂栏目通过视频的方式更加直观地帮助学习者学习汉语,增强趣味性;
流行风、生活小景、文化漫谈、九州览胜等栏目,展示当代中国热门话题,让学习者在阅读过程中了解真实的中国;
外眼看中国、唐人看世界等栏目,以跨文化视角对比中外文化差异,让学习者在阅读过程中实现不同文化对接。
《免费学汉语》目前已有免费学习汉语的资源三千余篇,每日更新,可实现中英文双语自由切换,并根据不同栏目的特色提供拼音注释和音频范读,同时配有导航标签,用户可根据自己的需要订阅栏目,实时阅读学习。